Uncategorized
May 14, 2022
Top 5 Reasons to be at Feriado Resorts this Summer!
Summers call for a few days of undisturbed lifestyle from our otherwise busy routine. It lets you soak in the golden rays of sunshine and unwind with exotic experiences while leaving all your troubles behind.
Telangana is a state situated in the thick of nature. Amidst the mesmerizing beauty of swaying trees and rich species of flora and fauna, whimsical sunsets, sounds of the rivers and relaxing tunes of the winds, it has one of the most picturesque vacation spots near Hyderabad. Every dawn begins with soothing rays of the sun glowing everything around and ends with admiring the dark skies with a view of the clear twinkling of stars. These are just some of the very beautiful reasons you should be spending your summer vacations at Feriado Resorts.
So, what are you waiting for? Pack your bags and enter a gateway to nature, a world of summer fun.
Weekends are the best part of the week and we are sure you do not want to spend them at home after being locked in for many months.
Simply lying in the garden, siestas on a hammock in summer evenings, a walk amidst trees, relaxing by the lake, or even the occasional weekend escape from the city is exactly what a summer resort in Telangana, Feriado Resorts offer. We know how difficult it is to find a simple breath of fresh air because of the city pollution, but imagine a destination which solely possesses the view of scenic beauty at just an hour's drive away from the heart of Telangana. Holiday places near Hyderabad, and located in Tadvai, Feriado Resorts captures the essence of vacation, just the way you want it.
GET IN TOUCH WITH YOUR WILD SIDE
Tadvai forests let you feel the sweet smell of Earth's soil under a beautiful canopy of trees. With more than 200 species of vibrantly hued birds flocking their way through the forest and various other species of wildlife, a trail in the jungle near Feriado Resorts is what lets you explore the wilderness. If you, like us, are also huge fans of capturing the woodland on your camera, we are sure you will definitely fall in love with this destination. So get ready to step into one of the most scenic resorts for a cool summer vacation near Hyderabad.
We know water bodies bring out that little child in all souls. Be it simply dipping your legs, playing splash or actively letting the adrenaline drive you into adventure sports, water has something for everyone. Tadvai Lake, near Feriado Resorts, is a beautiful body of pristine waters that offers you the calmest of vibes merged with activities that let you enjoy the present moment. Manoeuvre through the Tadvai Lake, an unexplored place around Hyderabad, to explore the remote beauty of the waters through a kayak or stay on the side to enjoy a long session of fishing. With Feriado Resorts, add valuable moments to your vacation.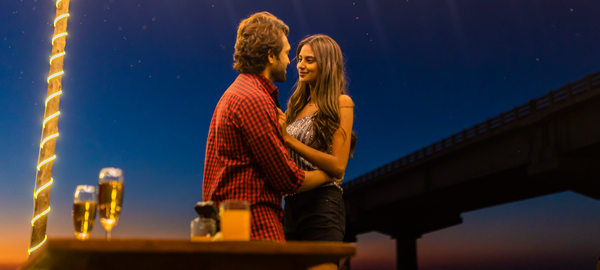 Going the extra mile with the one you love is a lifelong memory worth creating. At Feriado Resorts, we have experiences that will surely sweep you both off your feet. A date night by the river, some adventure sports for the adrenaline junkies or simply relaxing on the property of one of the best summer resorts in India. Enjoy a comfortable and luxurious vacation surrounded by acres of serenity open out to the starry sky. Enjoy your uninterrupted time together in many of Feriado Resort's hidden alcoves.
CASUAL TO SPECTACULAR DELICACIES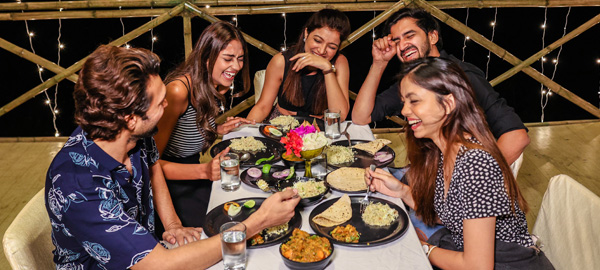 With an open-air machan dining experience, Feriado Resorts offers delicacies for everyone. If you are among the ones who love trying spectacular new kinds of food or in the category who stick to the regular dishes, we can please you both. With a mix of extravagance and style, we offer a delightful palette of delicacies that is a true amalgamation of the best flavours. The cherry on the top are our traditional south-Indian delicacies that are prepared with extra love and mused with the spices of Telangana. Come, relish the art of culinary preparation.
We are sure, you would not want to miss out on creating experiences.
COME CLOSER TO NATURE, COME CLOSER WITH FERIADO.